Yangon, 18 June 2020 – JOOX, the most popular streaming app in Myanmar, is moving its Second annual JOOX World Music Day 2020 festival online to comply with social distancing event regulations – and making it a COVID-19 charity event. The online music festival will be broadcasted Exclusive LIVE only on the JOOX app under the name "The Sound of Happiness" on Sunday, 21June 2020 at 1:00 PM MM Local time.
Audiences can participate with this event by sending gifts to their beloved artists. 1 gift = 20MMK which JOOX will donate to UNICEF based on total gifts this campaign has received.
JOOX will donate all of the proceeds from all gift revenue to UNICEF, to be used for international COVID-19 relief efforts.
"At JOOX, we are always seeking ways to provide music fans with new ways to enjoy the music they love. JOOX World Music Day 2020 festival has been a success last year, and we are proud to say we've found an innovative means to present it for the second year in a row, despite the unfortunate circumstances. As there will also be the surprise program during the live, we're inviting everyone to transcend physical distance and connect through the power of music, and we encourage viewers to support global pandemic recovery efforts giving gifts", said Mr. John Zhang, Country Manager of JOOX Myanmar.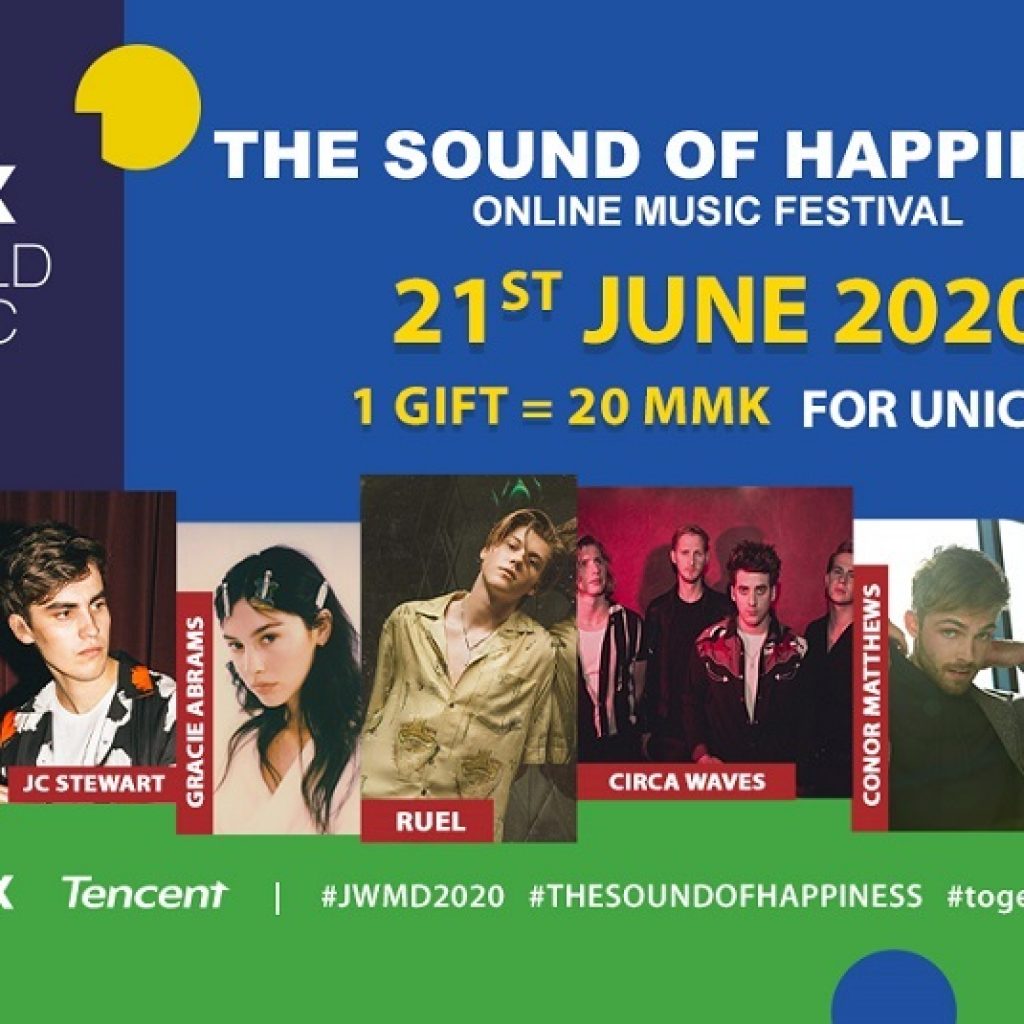 "The Sound of Happiness" will feature eight well-known Myanmar artists: Wai La , Big Bag , Phyu Phyu Kyaw Thein , Shwe Htoo , Eaint Chit , Phyoe Pyae Sone , May , and ChanMyae MgCho. Joining them will be eight international artists: Ruel, Alexander 23, Circa Waves, Mxmtoon, Conor Matthews, Gracie Abrams, Griff, JC Stewart, and Maximillian. The artists span a wide range of modern music genres, including Pop, R & B, hip hop, and rock. One the smart phone brand realme also contribute for this charity. In addition to the above mentioned local and international artists, R3hab, World's No. 14 DJ Artist, will also be having a short surprised session of entertainment for the viewers.
World Music Day, held annually on 21 June, originated in France in 1982. In previous years, it has been celebrated in over 1,000 cities worldwide with numerous free concerts in public places.
JOOX is a 'freemium' music streaming app available in Asian markets including Hong Kong, Thailand, Indonesia, Malaysia, and Myanmar, with over 290 million global users and 15 billion plays. It caters its services to meet the music interests of users in each country. Most songs on JOOX are free to listen to by all, but some songs require a paid VIP membership.
During the "Stay At Home" period, JOOX has been supporting its members in Myanmar with motivational playlists designed to lighten their moods, help them stay positive while staying at home, spread awareness about COVID-19, and follow the guidelines of the Ministry of Health and Sports.
"The worldwide impact of COVID-19 has been massive, and there are so many people out there who need help. We at JOOX are happy to do our part while providing Myanmar music fans the excitement and uplift of live entertainment that they have been missing." Mr. Zhang said.